Introducing BAITSHARK®:
The best natural livewell
for kayak or wade fishing!

How Baitshark Enhances Your Kayak Fishing Experience:
Sleek Design: Keep your bait fresh and alive all day with Baitshark's streamlined shape.
Improved Water Flow: Utilizing pressure differentials, Baitshark offers superior water exchange.
Easy Retrieval: Retrieve your bait effortlessly with just one hand, thanks to Baitshark's positive flotation.!
Quiet Companion: Baitshark's foam-padded sides ensure a silent and stealthy presence, even when it brushes against your kayak.
Maximize Storage: Ditch the bait well, battery, and plumbing so you can free up precious storage space.
Made In the USA: Our Baitsharks are designed locally, right here in Florida.
Paddle with Confidence - Leave Your Baitshark in the Water
Traditional bait buckets can be a drag - literally. They slow you down as they trail behind your kayak and often fail to keep bait alive. Baitshark, on the other hand, is designed to minimize drag and keep your bait thriving while you paddle!
Baitshark vs. The Competition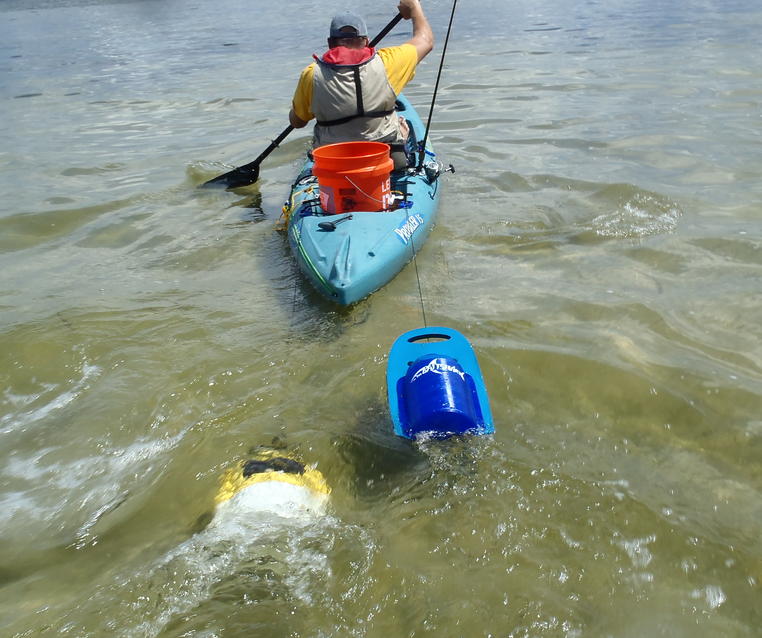 A picture says it all: In our comparison, notice how the bungee cords are exactly the same length, demonstrating Baitshark's superior performance!
US Patent No. 10,624,328. US Design Patent D799,633.