Introducing BAITSHARK®:
The best natural livewell
for kayak or wade fishing!

How BAITSHARK Makes Kayak Fishing Easier:
Streamlined shape - leave it in the water all the time and keep your bait fresh and alive!
Superior water flow - uses pressure differential to enhance water exchange.
Positive flotation - retrieve bait with one hand!
Silent and stealthy - the foam padded sides keep it quiet when it bumps into your kayak.
Forget the bait well / battery / plumbing and all of the precious storage space it consumes.
Made in the USA, Parrish, FL.
Leave your bait bucket in the water while you paddle.
Traditional bait buckets don't quite work correctly when you're fishing from a kayak. They slow you down as they drag behind your kayak and often don't keep the bait alive. Unlike normal bait buckets, you can leave your BAITSHARK® in the water - it is designed to minimize drag and keep your bait alive while you paddle!
Baitshark vs. the Ordinary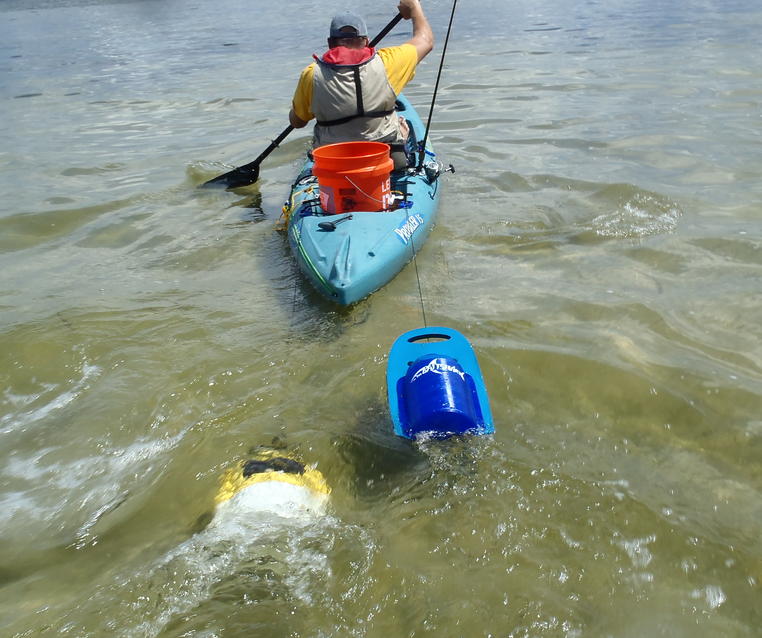 The bungee cords in this photo are the same length!
US Patent No. 10,624,328. US Design Patent D799,633.